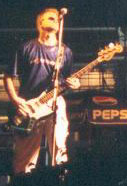 Arch, a long time friend of Steve's, who has always had music running through his veins broke into the music scene in 1998. At this time Steve was still a member of "The Swinish Multitude" Arch quickly slotted into the band after their bass player had to leave. His talents were quickly noticed and when Life After 9 was formed, Arch became a core member of the group.

After a successful three year North American tour, Arch was intrigued by the opportunities in Asia and encouraged the band to relocate to Bangkok, Thailand to introduce the unique sound of LA9 to Asia.

Although Arch had solid ties with his drummer back home, it took no time to adjust to the excellent Thai style drumming of Tum. They have enthralled audiences around the country with their catchy, addictive beat.